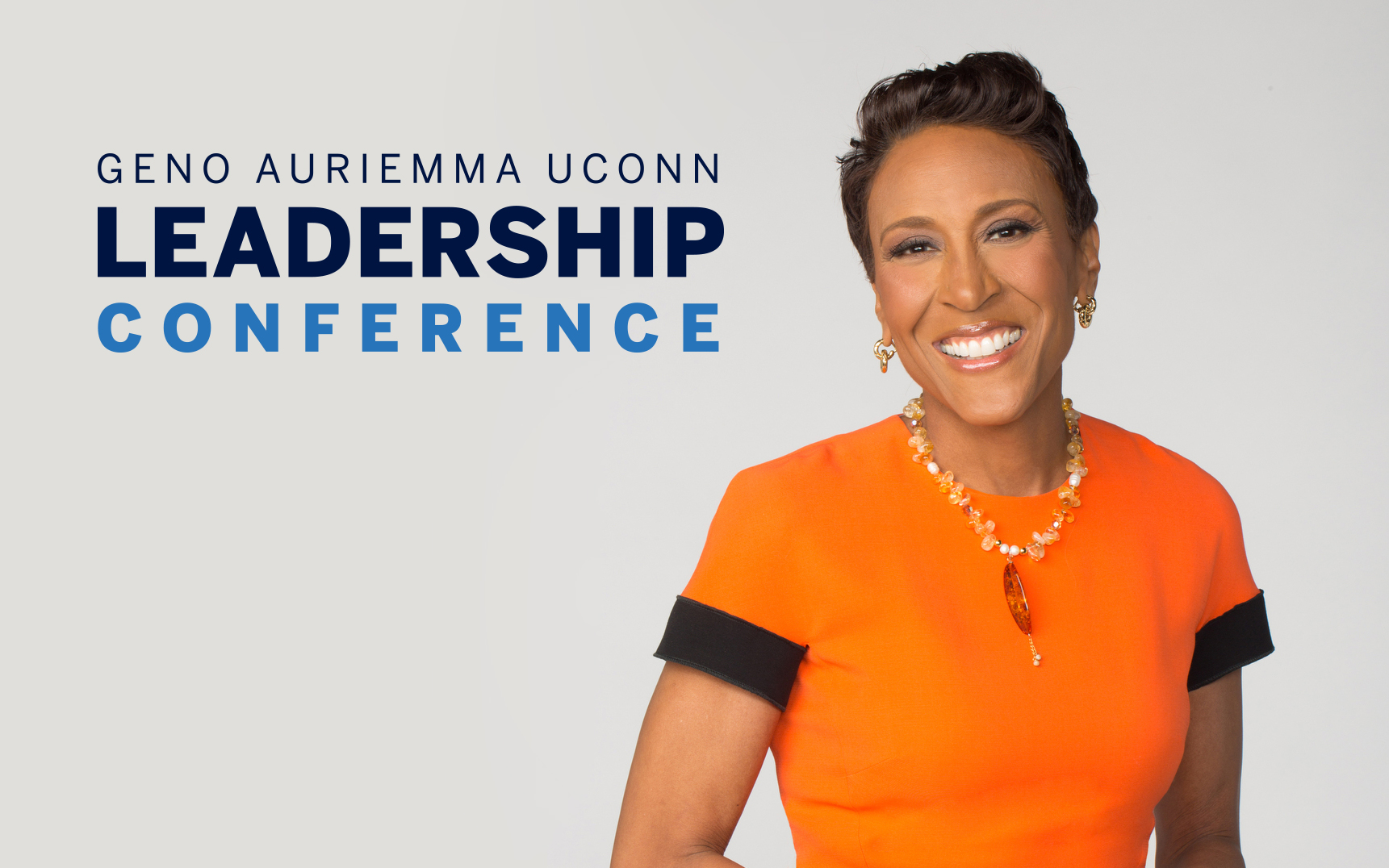 Good Morning America's Robin Roberts to Headline Geno Auriemma UConn Leadership Conference in April
Robin Roberts, co-anchor of ABC's "Good Morning America," will be the keynote speaker at the Geno Auriemma UConn Leadership Conference in April 2018.
"Agile Leadership: Staying Ahead of the Game" is the theme of the conference from April 17-18 at Mohegan Sun Convention Center in Uncasville, Conn. The event is hosted by Auriemma, the UConn women's basketball head coach, who has led his team to 11 NCAA Division One national championships.
The conference, which consistently sells out, brings together successful business professionals from a vast variety of fields who address leadership challenges and opportunities. Lucy Gilson, head of the Department of Management at the School of Business, is the academic director.
"We are delighted to welcome Robin Roberts as our keynote speaker at the Geno Auriemma UConn Leadership Conference and look forward to her insight into the experiences, talent and personal fortitude that helped her become one of the most respected national television journalists," Auriemma said.
"In addition to her professional achievements, she is a person who has demonstrated tremendous fortitude in the face of a frightening health experience. She has twice beaten cancer with strength, grace and a fighting spirit. Adversity often brings out the very best in people and I'm anticipating she will share some of those lessons with us."
A True Leader Makes Tough Decisions
During a recent telephone interview, Roberts discussed the value of strong leadership and the impact those in power can have on others.
"If you're put in a position of leadership, you have the capability to make tremendous change, said Roberts. "Being in a leadership position is a gift, and it should be used wisely."
Roberts, who rose to national prominence on Bristol, Conn.-based ESPN's "Sports Center," credits both her career success and two-time triumph over cancer to a philosophy that includes dreaming big but also focusing on the important details.
Tenacity and hard work helped propel her career, as did the "give me the ball" mantra she developed as a standout college hoop star at Southeastern Louisiana University. Before earning a bachelor of arts degree cum laude in communications, Roberts became one of the school's all-time leading scorers and rebounders. In 2012, she was inducted into the Women's Basketball Hall of Fame.
"I know I've worked my tail off to be where I am. I had coaches, teachers and preachers who helped me along the way, maybe helped make it look easy, but in the end there's no substitute for hard work," she said.
"It is important to set lofty goals and to take initiative. You can wish, hope and pray all you want, but you have to want to be a leader. You have to have that 'give me the ball' mentality. You have to think, 'I may not make it, but I'm going to take the shot!'" she said.
Roberts credited her loving, but honest parents, for creating a foundation that set her up for a lifetime of achievement. "My parents didn't prevent us from falling down, but they picked us up when we did," she said.
The first time that ESPN offered her a job, she turned it down.
"I knew I wasn't ready," she said. "I went to another station instead, and got the experience I needed. You have to know your strengths, but also your weaknesses."
Roberts has been honored with the Walter Cronkite Award for Excellence in Journalism, was inducted into the Broadcasting & Cable Hall of Fame as well as the Sports Broadcasting Hall of Fame. She also founded her own production company, Rock'n Robin Productions, which creates original broadcast and digital programming for ABC and other networks.
Business Lessons Apply to Health Battles, Too
Roberts was diagnosed with breast cancer in June 2007, and five years later, she was diagnosed with Myelodysplastic syndrome (MDS), a cancer which occurs when the blood-forming cells in the bone marrow are damaged.
Roberts underwent a life-saving bone-marrow transplant, after discovering that her sister, Sally-Ann, was a perfect match. Her story triggered an outpouring of support from across the nation as well as a surge in interest in the marrow registry.
Many of the forward-looking attributes that marked her career were useful in battling her illness, Roberts said. "I'm a 'rip the Band-Aid off' kind of person," she remarked.
Roberts is the author of From the Heart: 7 Rules to Live By and her memoir, "Everybody's Got Something," in which she tells the story of her battle against life-threatening illness and returning to a normal life.
In the book, she laments how people spend so much time wishing and hoping.
"But if there's one thing that spending a year fighting for your life against a rare and insidious bone marrow disease will teach you, it's that time is not to be wasted. If you can, let the darkest moments of my journey inspire you," she wrote.
Her friends had long said they would take a trip together to Hawaii. It had been endlessly discussed, but never planned. After surviving cancer, she invited her inner circle to go on that long-wished-for trip.
"That was as much about gratitude as it was about mai tais and palm trees," she wrote. "Hawaii was my way of saying, 'Thank you. Thank you for loving me through this.' It was also a sunshine-filled message to my own battered soul. I had made it. I had made it."