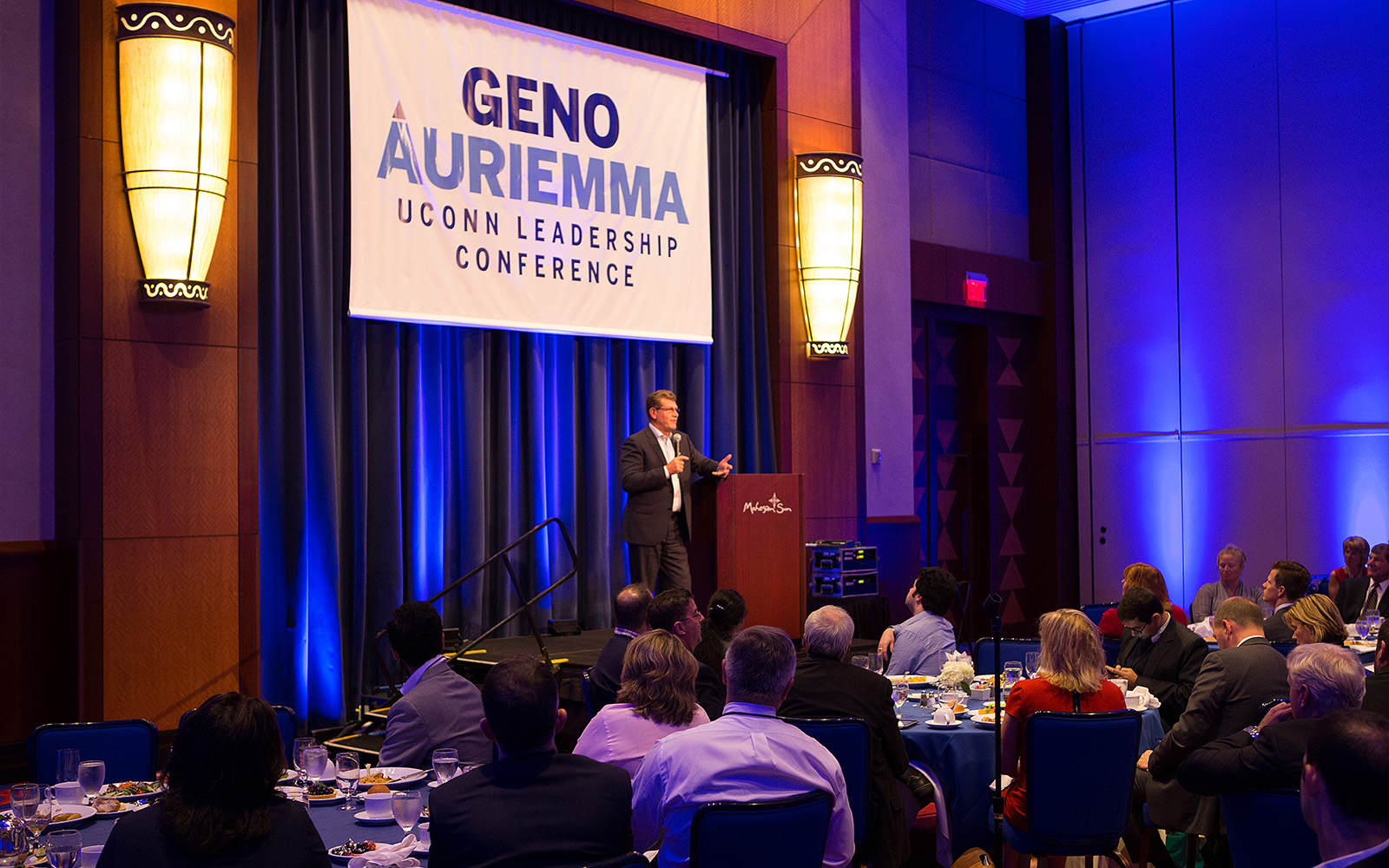 The Geno Auriemma UConn Leadership Conference, one of Connecticut's premiere events for top executives and emerging business leaders, has announced some of its key speakers for the October 2016 event. They include: Lisa Borders, incoming president of the Women's Basketball Association; John Ciulla, president of Webster Bank and Webster Financial; Wendy Kahn, the CEO of the Valentino fashion house, and Steven Raab, president of SNY.
The theme of this year's conference will be"Leadership Transitions and Building Teams." "Both on and off the court, leaders need to have a winning game plan that allows them to succeed," said Auriemma, head coach of the 11-time national championship UConn Women's Basketball Team and 2016 Associated Press Coach of the Year.
"We have an outstanding line-up of business leaders for this year's conference," Auriemma said. "I have no doubt participants will leave with new ideas that will help them build their careers, their teams and their businesses."
The two-day event will be held Oct. 26-27 at the Mohegan Sun Conference Center. Participants are typically senior- and emerging- business leaders from organizations, large and small, throughout the region. Past keynote speakers have included U.S. General Martin Dempsey, chairman of the Joint Chiefs of Staff.
This year's speakers include:
Gina Barreca, who is a New York Times bestselling author and professor of English at the University of Connecticut. Her new book is titled, "If You Lean In, Will Men Just Look Down Your Blouse? Questions and Thoughts for Loud Smart Women in Turbulent Times." She has appeared on 20/20, The Today Show, CNN, the BBC, Dr. Phil, NPR and Oprah to discuss gender, power, politics and humor. At UConn, she has won the university's highest award for teaching.
Lisa Borders is president of the Women's National Basketball Association (WNBA). A recent chair of the Coca-Cola Foundation and vice president of global community affairs at The Coca-Cola Co., Borders recently accepted the role of WNBA president. Her responsibilities will include strengthening the league and accelerating its growth. In early 2013, Borders completed her tenure as president of the Grady Health Foundation, Georgia's largest public hospital and metro Atlanta's premier Level 1 Trauma Center, where she oversaw a five-year, $325 million capital campaign. She is also the former president of the City Council and Vice Mayor of Atlanta.
Bob Chauvin '78 is the former president of Tyco SimplexGrinnell. Chauvin is an accomplished senior executive with proven success in accelerating profitable growth, increasing customer satisfaction and building strong, highly-focused teams. In January, Chauvin retired from Tyco SimplexGrinnell, a $2.3 billion fire protection, security and life-safety installation and services business with more than one million customers in North America. During the last five years, Chauvin led a team of 10,000 employees and was responsible for the strategy, vision and profitability of both the U.S. and Canadian businesses. Chauvin is an alumnus of the University of Connecticut where he earned a bachelor's degree in accounting in 1978.
John Ciulla is the president of Webster Bank and Webster Financial Corp. Ciulla joined Webster in 2004 as a senior vice president, and has served in a variety of management positions, including chief credit risk officer and the head of commercial banking, prior to his promotion to president in October 2015. He also serves as vice chairman of the board of the Connecticut Business and Industry Association and on the board of the Business Council of Fairfield County.
Anne Diamond is the Chief Executive Officer of UConn's John Dempsey Hospital/UConn Health. Diamond joined UConn Health in April 2010 and serves as the chief executive for UConn John Dempsey Hospital, responsible for all hospital operations. During her time at the helm, the hospital has been recognized nationally by the American Hospital Association for its rapidly improving quality and by the Connecticut Hospital Association for use of data in improving quality and clinical processes.
Carol Juel is the Executive Vice President and Chief Information Officer of Synchrony Financial. Juel is responsible for the Synchrony's IT strategy and vision with continuous focus on payment innovation. The company, grown out of GE Capital, has become the largest provider of private label credit cards. As CIO of GE Capital Retail Finance, Juel led growth for clients, dealers and providers by developing strong technology partnerships, delivering innovative solutions and driving the company's digital transformation. She also serves as a mentor to Women in Technology.
Lincoln Millstein '77 is a Senior Vice President and Special Assistant to the CEO of Hearst Corp. A graduate of UConn, where he was editor-in-chief of the student newspaper, Millstein went on to a distinguished journalism career. He served as business editor at both the Hartford Courant and Boston Globe as well as the city and managing editor of features at the Globe. Since 2005, he has worked at Hearst, one of the nation's largest diversified media and information companies. Millstein is recognized as a digital pioneer in the newspaper industry. He co-founded Boston.com for the Boston Globe in 1995 and ran it for five years before moving to New York as executive vice president of New York Times Digital.
Steven Raab, President, SportsNet New York (SNY). In 2007, Raab was named president of SNY, the official television home of the New York Mets, New York Jets and the champion UConn Huskies women's basketball program. Before being named President, Raab was vice president of marketing and business development for the network, for which he has worked since 2005. He previously worked as senior vice president of marketing for ESPN Videogames, where he led the re-branding effort from Sega Sports.
Peter Valenti III is division president, Breast and Skeletal Health Solutions for Hologic Inc. Valenti joined the multi-billion dollar medical devices company in 2014. He has been involved in healthcare for more than 20 years, working at Bausch & Lomb, Covidien and Johnson & Johnson. His leadership experience is mostly in turnaround or challenging business situations, involving urgent and intense focus on people, culture, innovative approaches and management changes. He earned his bachelor's degree from UConn.
Wendy Kahn is Chief Executive Officer of Valentino USA, Canada & Mexico. A native of South Windsor, Conn., Kahn's interest in the business of fashion began at Long Island University—C.W. Post where she studied marketing and sociology while working at both Banana Republic and Bloomingdales. She started her career in the early 1990s as an account executive at Michael Kors. Three years later, Kahn was offered a position at Marc Jacobs and ultimately rose to senior vice president of sales. In 1997, Kors was named the first Women's Ready-to-Wear designer at Céline and personally requested Kahn join his team as senior vice president of sales. Over the next five years she became the president of Céline and Pucci in the U.S. In 2004, Kahn joined Valentino as senior vice president of sales, marketing and retail for North America. In 2008, she became CEO. Since then, the Valentino business has seen double-digit growth in the U.S. each year, and the brand continues to be at the forefront of the industry across all divisions. In her current role, Kahn works closely with design and marketing teams in Italy, as well as with the chief merchants of all the major U.S. and Canadian department stores.
For additional information, please call (860) 486-1723 or visit genoleads.com. For sponsorship opportunities, please call (860) 486-1927.