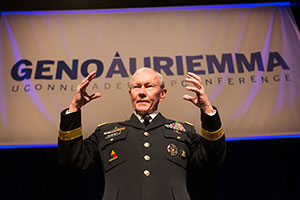 Lead with a "servant's soul," always be well-informed, select persuasion over force, and strive daily to win the trust of your colleagues.
That was some of the advice offered by U.S. Army General Martin Dempsey, the highest-ranking military officer in the country, during the keynote presentation at this year's Geno Auriemma UConn Leadership Conference, sponsored by the UConn School of Business. Dempsey, the chairman of the Joint Chiefs of Staff, offered lessons from his military career that carry over to the corporate world.
The theme of the two-day conference, Oct. 22 and 23 at Mohegan Sun, was leading for innovation and change. He spoke to nearly 200 entrepreneurs and business executives from Connecticut and beyond.
Dempsey began his speech discussing the Cuban missile crisis in October 1962—exactly 52 years to the day of his presentation. He discussed how President Kennedy was confronted by a series of options and had the painstaking work of determining what course to take. Eventually he decided on a blockade of Cuba, and it worked.
"You make decisions always in uncertainty. There is never enough information," said Dempsey, who is in charge of some 2 million military personnel and is the top military adviser to the president. "You can actually paralyze yourself in the effort to get just one more piece of information. Don't overwhelm yourself and everyone around you with too many options."
Trust is the underpinning of all leadership, Dempsey said, and is another trait that transcends military and corporate success. He talked about an Air Force para-jumper, part of a military rescue team, who 12 times rappelled off the side of a mountain in Afghanistan, while under machine-gun fire, to rescue his fellow airmen.
"I said, 'What were you thinking?' and he said, truthfully, 'I wasn't thinking about much except "I have to go…they're my teammates,"' Dempsey said to the audience, which was quiet with intrigue.
"We are the finest military in the world, not because we have the coolest equipment. And we do. Or the finest uniforms. I think the Marines have those. It's because we trust each other. In the military, you must trust the man or woman to your left and to your right; the chain of command; the medic who is caring for you; and the pilot who will stand a helicopter on its nose in any kind of terrain, altitude and weather to get you out of there.
"As we talk about leadership and innovation… I believe innovation might make you more efficient and effective, but it won't make your team better unless it is built on that foundation of trust," he said.
Other key speakers during the two-day conference included Andy Bessette, executive vice president and chief administrative officer at Travelers; Bob Diamond, former chief executive of Barclays and currently founder and CEO of Atlas Merchant Capital; Manon Cox, president and CEO of Protein Sciences; Matt Fleury, president and CEO of the Connecticut Science Center; Christine Potter, vice president of Stanley Black & Decker; Karen Munson, vice president of Munson's Chocolates; and Michael Jackson, vice president at NIKE. Many of them referenced Dempsey's comments in their own presentations.
"The whole conference was very thought-provoking for me," said Mike Guido, vice president for product concept development at Prudential. He described the general's speech as inspiring and said he learned a great deal from other speakers about embracing technology. "I work in financial services and I think our industry needs to evolve and make changes. We can learn a great deal from other industries."
Another trait of an exceptional leader is adaptability, Dempsey said, noting that U.S. Special Ops forces didn't use high-tech strategies in the early days of the conflict in Afghanistan. Their vehicle of choice was a horse.
"Our adversaries know if they stand toe-to-toe with the U.S. military, they will be defeated," he said. "They have become very adaptable. They are thinking organizations, as we are. If we fail to innovate, even the finest military team in the history of mankind will fail."
Dempsey noted that businesses, like the military, face a "drive for immediacy."
"We've been in an air campaign for four weeks and people are asking 'What happened? Why is ISIS is not defeated?'" he said. "It's mind-numbing to think that we can overcome 20 years of unrest, disenfranchisement and sectarian- and religious- conflict in four weeks of an air campaign. But that's kind of what drives us. Decision makers have a drive for immediacy right now." He went on to say that good business practices, like a marriage proposal, come down to making the right decision at the right time.
He went on to say that no leader can do it alone and that an effective leadership style is something to master. He talked about trying to lead with "a servant's soul."
When asked how he succeeds in changing people's minds, Dempsey said he welcomes divergent opinions.
"The more trust you build the better. The best argument generally prevails. I do my homework before I make a recommendation—and I find I'm generally one of the best prepared in the room," he said. "But interact with a sense of humility. If I said 'I know more about this than you,' that wouldn't get very far in the White House."
"I carry around with me a card. On it is written: When is it I allowed someone to change my mind about something?" he said. "If you're dealing with people and they know you're open minded, it is a much different conversation than if it is you trying to overwhelm them."
The general, who will retire next September, said he could 'bludgeon his way through' his job, but prefers to leave behind a group of prodigies and a legacy of leadership. Adding a nod to Auriemma, who is a friend, Dempsey said, "Look at the great coaches who get great results," he said. "They also produce other great coaches."
Dempsey peppered his talk with personal anecdotes, including a visit from actress Angelina Jolie, which drew thousands from their Pentagon offices, and his experiences with his own Facebook page, which he said sometimes attracts some strange visitors.
But perhaps his most popular story was when he described how, as 40-year old tank battalion commander, he learned about confronting failure during a crucial exercise. Twice a year he had go to a tank range to prove his worthiness and ability to lead 500 soldiers. "Every six months someone looks you dead in the eye to see if you've got what it takes," he said.
The daytime drill hadn't gone well and to keep his commanding officer status, he had to perform almost perfectly during the nighttime exercise.
"Here I am the tank commander and I'm about to fail miserably. I was never so nervous in my life," he said. "The sergeant major walks up to me and I expected he was going to give me a little encouragement. He said, 'Here's my advice. If you don't get those points, turn that tank around and keep going. We don't want any part of you.'"
"I think I learned more about confronting failure that day," he said. "I passed and I never felt so good about getting a C in my entire life."
The combination of leadership suggestions and personal stories resonated well with the audience.
Jennifer Runkle, HR manager at Electric Boat, said Dempsey's speech was amazing. "We're always looking for new ideas that have worked at other companies," she said. "Even though we are part of the defense industry, we can learn from other types of businesses. It was very eye opening, very valuable."