The nation's highest-ranking military officer will deliver the keynote address at this year's Geno Auriemma UConn Leadership Conference, Oct. 22 to 23 at the Mohegan Sun Convention Center in Uncasville, Connecticut.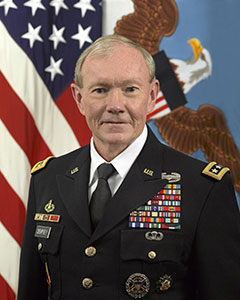 U.S. Joint Chiefs of Staff Chairman General Martin Dempsey is scheduled to address conference attendees on the first day of the event. Coming on the heels of Geno Auriemma's 9th NCAA National Basketball Championship, this conference will focus on Leading for Innovation and Change.
"Over his career, General Dempsey has witnessed and led change that has impacted the lives and safety of every U.S. citizen," said Lucy Gilson, professor in the UConn School of Business, which is cohosting the event.
As the 18th Chairman of the Joint Chiefs of Staff, General Dempsey serves as the principal military adviser to the President, the Secretary of Defense and the National Security Council. Prior to becoming Chairman, the general served as the Army's 37th Chief of Staff. A 1974 graduate of the United States Military Academy and a decorated career armor officer, General Dempsey also has Masters' Degrees in English, Military Art and in National Security Studies.
"The world of business and the military are surprisingly similar," Gilson said, adding, "both have missions, finite resources, need to be prepared for unexpected changes, look to retain and promote their best and brightest, and therefore it is not surprising that throughout history business leaders have looked to the military for wisdom and inspiration."
During this exclusive event, business leaders will share best practices in an intimate high-end setting designed for interaction, learning, and sharing. Breakout sessions will be divided by industry, allowing participants the opportunity to examine strategy and approaches necessary to lead, motivate, and inspire top performance from everyone in their workforce.
The conference will also feature a lineup of business leaders and executives sharing their insight and expertise.
"After an extremely successful inaugural conference in 2013, I am very excited to be partnering with the UConn School of Business again to bring leadership insights to business leaders throughout the region," said Auriemma.
Auriemma's talk, "Changing the Game," will be presented during a featured lunchtime session.
In his position as head coach for 29 seasons, Auriemma has transformed the UConn women's basketball program into the standard by which all others are measured, both on and off the court. Under Auriemma's leadership, the Huskies' success includes 15 Final Fours, five perfect seasons, 37 BIG EAST titles and the first AAC title. The Huskies brought home their ninth national title April 8th, beating Notre Dame 79-58 after both teams celebrated undefeated seasons.
Proceeds from the conference are received by the UConn Foundation and benefit Leadership Education at the UConn School of Business. Continuing education credits are available.
*Speakers continue to be added for this event. Visit genoleadership.uconn.edu/speakers for continual updates.
For more information: Michael J. Deotte (860) 486-4478 or Peter Gold (860) 674-1500