The University of Connecticut is pleased to announce the dates for the 2014 Geno Auriemma UConn Leadership Conference (http://genoleadership.uconn.edu) – October 22-23. The conference will once again be held at the Mohegan Sun Convention Center in Uncasville, Connecticut.
"After an extremely successful inaugural conference in 2013, I am very excited to be partnering with the UConn School of Business again to bring leadership insights to business leaders throughout the region," said UConn Women's Basketball Coach Geno Auriemma.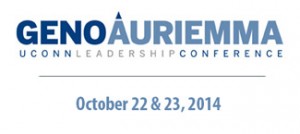 We are also very delighted to announce the return of Virtus Investment Partners—a Major Sponsor of the 2013 event—as one of two Presenting Sponsors for 2014.
"We are very pleased to partner with Coach Auriemma and the UConn School of Business as a Presenting Sponsor of the 2014 Geno Auriemma UConn Leadership Conference, which supports the development of the next generation of leaders for corporations, government agencies, and non-profit organizations," said George R. Aylward, president and chief executive officer, Virtus Investment Partners.
"In an increasingly competitive business environment, there is a need to develop and sustain the individuals who will lead organizations in the future, and we believe this conference allows organizations to develop leaders who can solve problems, create opportunities, think creatively, and lead for innovation and change," Aylward said. "The UConn Leadership Conference gives leaders the tools and knowledge they need to be successful in their organizations."
Returning for a second year as a Presenting Sponsor is Farmington Bank.
"Farmington Bank is once again honored to be a Presenting Sponsor of the Geno Auriemma UConn Leadership Conference," stated CEO John Patrick. "As demonstrated last year, the conference brings together business leaders from throughout Connecticut for engaging, thought provoking discussions, regarding timely business issues confronted by senior executives. Our core mission of being an economic driver in Connecticut aligns perfectly with the conference's objectives," said Patrick.
Major Sponsors returning for the event include Prudential, the Hartford Courant, Fox CT, and CBS Radio – CT.
A premiere event, the Geno Auriemma UConn Leadership Conference provides a distinctive opportunity for participants to benefit from the collective knowledge and experience of today's most prominent business executives, thought leaders, academic authorities, and industry peers. Read about last year's event and view the photos here.
"This year's conference will focus on leading for innovation and change," said Dr. Lucy Gilson, associate professor of management at the UConn School of Business and the conference's academic director. "As companies start to emerge from tough economic times, innovation becomes critical for their success. Regardless of company size or industry, leading for innovation and through change are critical skills that leaders need to develop and continually fine tune."
Proceeds from the conference are received by the UConn Foundation and benefit Leadership Education at the UConn School of Business.
For more information about registering for the conference, please visit http://genoleadership.uconn.edu or contact Peter Gold or Kate Gold at (860) 674-1500.