This article first appeared in the UConn Business magazine, Volume 3, Issue 3 (Summer 2013)
Accomplished and aspiring leaders from all corners of industry gathered in late April to be inspired by some of the nation's best business minds, as the first participants in the inaugural Geno Auriemma UConn Leadership Conference.
The conference, held April 29 and 30 at the Mohegan Sun Convention Center, was sold out to capacity with more than 150 registered attendees.
"Leadership is a most critical need in today's ever-changing business environment," says Lucy Gilson, UConn associate professor of management and the conference's academic director. "This conference provided a unique opportunity for its participants to benefit from the expertise of our faculty, the skills and experiences of our alumni, and the knowledge of our business partners."
The conference theme, Leadership Excellence in an Ever-Changing Environment, carried through each of the presentations, panel discussions, and dynamic breakout sessions.
The event kicked off with a keynote speech from Walmart U.S. President and CEO Bill Simon '81 (CLAS), '88 MBA, who said businesses and their managers must share a collective rallying cry to lead with excellence, particularly in a time when the nation and world face so much uncertainty.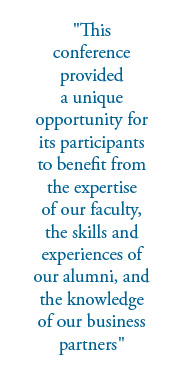 The Geno Auriemma UConn Leadership Conference (#GenoLeads) was marked with lively discussions throughout its two days. They included a debate on the second day between UConn Director of Athletics Warde Manuel and Denis Nayden '76, '77 MBA, a managing partner of Oak Hill Capital, who shared ideas on leadership and ways to leverage change for success, with a focus on similarities between the worlds of business and athletics.
The conference's final keynote address was delivered by Charlie Denson, NIKE brand president, who discussed the role of vision in leading an organization with a culture that encourages everyone to take risks and be innovative.
Other prominent speakers participated in discussions on how to lead a multi-generational workforce; ways of developing strategies for sustaining excellence; handling change effectively; being open to risk and innovation; and building a leadership skills toolbox to help address strategic planning, teambuilding, crisis management, and other issues.
"As the state's flagship university, and particularly as a business school, we must be at the forefront in supporting and sustaining Connecticut business and industry and thereby protect and advance our economy," comments John A. Elliott, dean of the UConn School of Business. "The Auriemma Leadership Conference is an ideal forum for bringing together some of our best minds; to share ideas, learn from one another, and subsequently to apply the new knowledge within our respective organizations."
Geno Auriemma, head coach of UConn's women's basketball team, is a vocal advocate of the value of leadership training and mentoring. His years on the basketball court at UConn – and as coach of the 2012 Olympic gold medal-winning U.S. women's basketball team – have only reinforced his core beliefs that leadership skills must continuously evolve to address whatever circumstances the leader encounters.
He reiterated those points at the conference, pointing out that a major aspect of leadership is making a decision and seeing it through with the best information available at the moment, knowing others are looking to you for direction.
With all proceeds from the conference supporting leadership education programs at the business school, sponsors of the event included Walmart, Farmington Bank, Virtus Investment Partners, New York Life, Prudential, Aetna, the Chamber of Commerce of Eastern Connecticut, the Middlesex Chamber of Commerce, The Hartford Courant, Fox CT (Fox 61), Hartford Magazine, WTIC-AM 1080, WTIC-FM 96.5, and Lite 100.5 WRCH.
More information about the conference can be found at genoleadership.com, including conference highlights, leadership articles and resources, useful links, as well as information regarding the next conference tentatively planned for fall 2014.